What Are The Best Window Treatments For Over The Kitchen Sink In Jacksonville?
When you're shopping for window treatments, don't forget about the kitchen -- especially above the sink. If you harbor reservations about splatters of water and food ruining a window treatment over the kitchen sink in your Jacksonville home, use durable faux-wood shutters. They look spectacular in any space but stand up to the moisture and heat of the kitchen.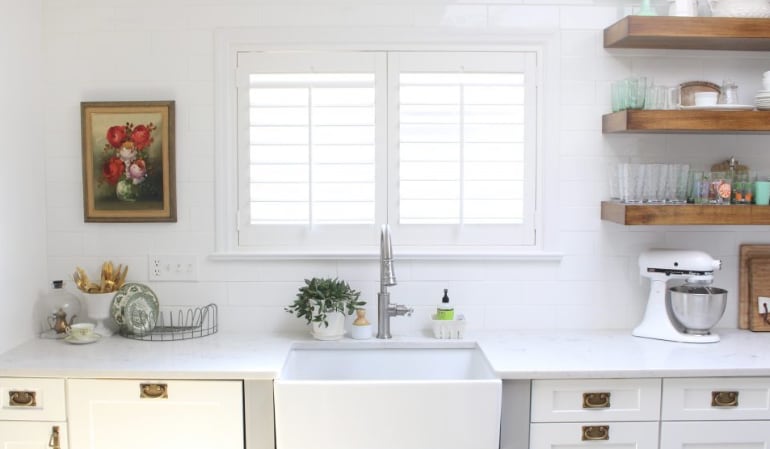 Dazzling Faux-Wood Shutters Bring Appeal To All Jacksonville Kitchens
Window treatments over your kitchen sink in Jacksonville need to be practical and long-lasting. But you won't need to sacrifice style when you hang popular, faux-wood plantation shutters.
This sought-after product melds easily with every kitchen design. They can be found in different hues of white that coordinate with kitchen appliances and finishes, and their strong panels of functional louvers counteract nicely with the smooth surfaces of your kitchen. They bring a unique sense of style to both luxury and minimalist kitchens and every one between.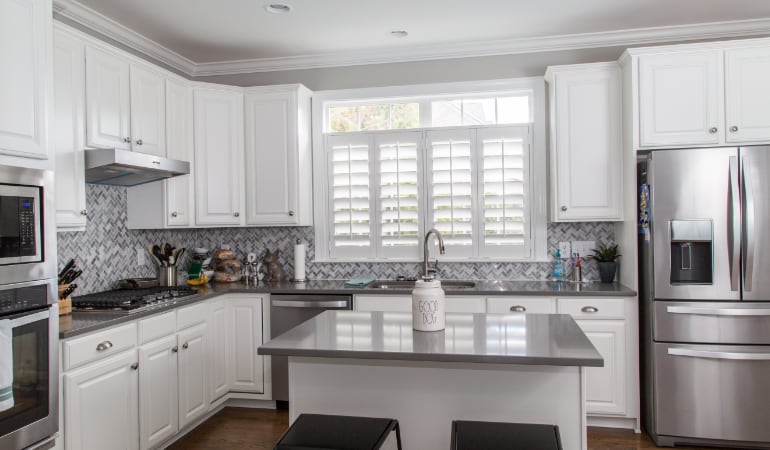 Interior Shutters Resist Damage From Heat And Water
Have you ever seen water droplets on your kitchen window when you're trying to boil water or wash dishes? That moisture latches on to window treatments over your Jacksonville kitchen sink, where it will deteriorate fabric shades or curtains as time passes.
Hang Polywood shutters instead. The patented construction of Polywood and durable finish resist damage from warm and wet conditions. These popular window treatments are totally watertight. Polywood shutters will not be yellow, warp, or chip from high levels of humidity.
Natural sunlight and outdoor conditions will have no influence over on the Polywood material. When Installed for the window over your sink, these plantation shutters are faced with old air and intense UV rays. These exceptional window coverings will not deteriorate due to interior warmth or outside cold, nor will they suffer from fading due to high levels of sunshine.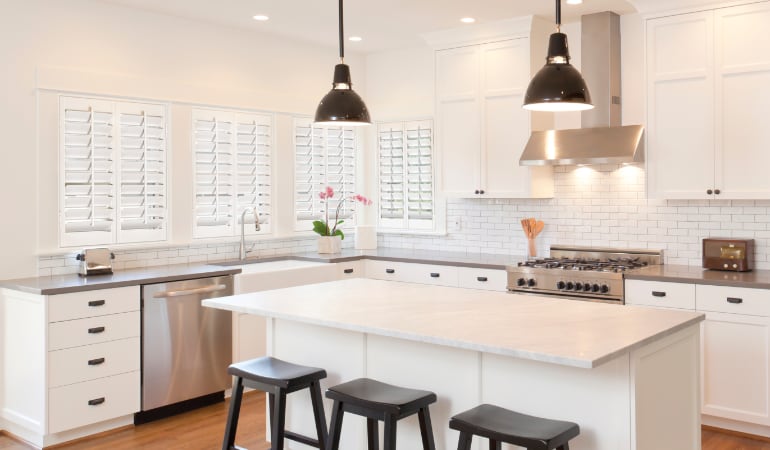 Window Treatments That Welcome Light Into Your Kitchen
Lighting is important in your Jacksonville kitchen. There's no reason to harm yourself because the lighting is too dim! Polywood shutters provide the amount of light you want and are a cinch to adjust. Simply swing the panels outward or effortlessly move the tilt rod to shift the louvers. There's no need to get frustrated with cords that always get tangled or an inconvenient pull bar that is too high to reach when you need to alter the light levels.
If you want full light, swing the panels open wide. If the sun's rays are a bit much, swing the panels back shut and move the tilt bar for softer light. Or use the louvers to reduce glare off counters and flat surfaces in your kitchen. If you want to avoid strangers looking into your kitchen at night, close everything tightly for complete seclusion.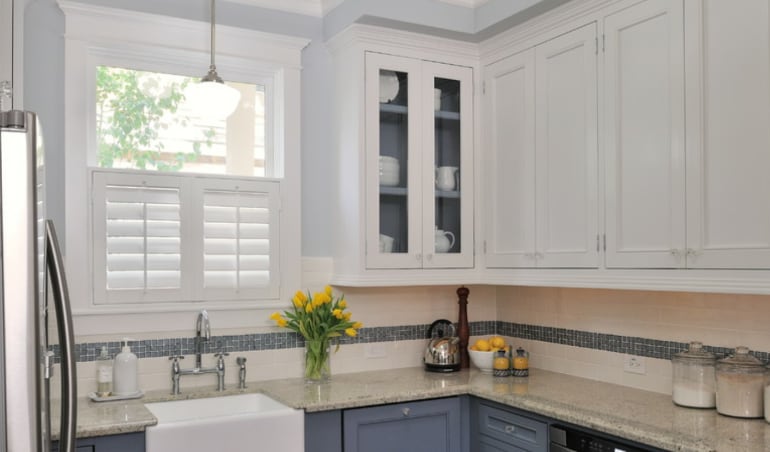 Polywood Faux Wood Shutters Clean Up Easily
It's common for kitchen surfaces to become covered in sauce splatters, grease, and dirt. The window treatment over your Jacksonville kitchen sink must be easy to clean. This is one reason why Polywood great for kitchens. Their hard, smooth finish doesn't stain or hold odors like fabric options. A simple wipe with your lightly dampened rag, and they're clean again.
You'll never have to spend too much time carefully poking your dust rag between the louvers as you would with inferior blinds. Shutter louvers are sturdy, and you can choose wide louvers for your custom shutters that provide ample space for your hand and cleaning cloth.
Get The Perfect Window Treatments For Over Your Kitchen Sink In Jacksonville At Sunburst Shutters Jacksonville
Sunburst Shutters Jacksonville has the right window treatment for each window in your house -- even the one above your sink. Confer with our specialists about what you have in mind, and we'll be glad to help upgrade your kitchen. Reach out to us at 904-289-1663 or complete our online form to get started.