The Best Window Treatments For Double Hung Windows In Jacksonville
When Jacksonville has enjoyable outside conditions, it's nice to get some fresh air and sunlight flowing in from the open upper sash of your double-hung windows. It's important to note, most window treatments obstruct the upper pane when lowered.
If you want seclusion without blocking your window tops, use plantation shutters or specialty shades that open at the top and bottom. These window treatments for double-hung windows in Jacksonville give you the best control of the light, airflow and privacy of your space.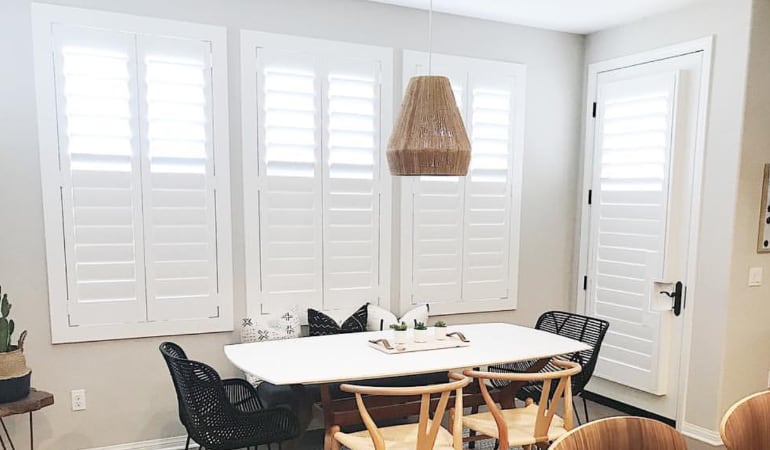 Control Airflow And Light With Interior Shutters
Just like double-hung windows, you have the ability to adjust plantation shutters in two distinct manners: swing the panels to uncover your window for full light or keep the panels closed and adjust the louvers with the center tilt bar for the amount of light and privacy you want. Either way, you let in a breeze when you open the upper or lower sash on a standard double-hung window. For the best air circulation, open up your panels and move both the upper and lower sashes so a cooler breeze enters at the lower section, and warm air escapes through the upper section.
Interior shutters work a little bit differently on double-hung tilt windows. Swing your shutters at the hinge and utilize the tilt option for ventilation. But you can talk to your professional installer about placing them with an outside mount so you can slightly open the panes while the panels are closed. Don't forget, you can still tilt the louvers to change your light and privacy levels.
You also have the choice to implement a divider rail within your panels. This allows you to open one section of the panel to let in the light while leaving the other half closed to protect your privacy.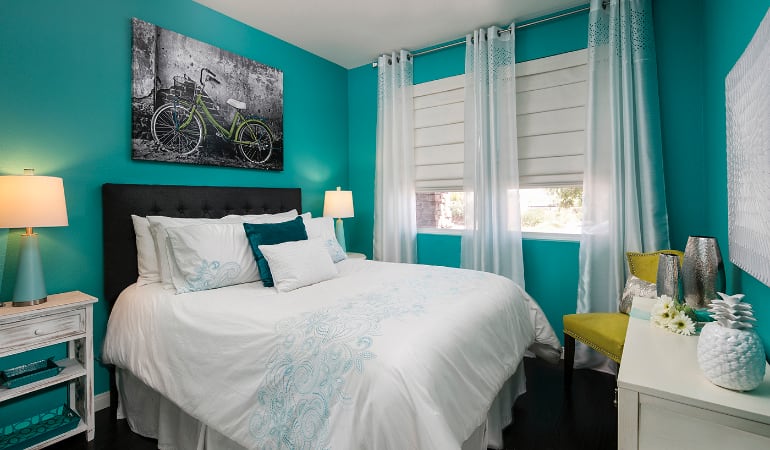 Enjoy Your Open Window and Privacy With Top-down/Bottom-up Roman Shades
Top-down/bottom-up Roman shades can be moved down at the top or up from the bottom, much like your double-hung windows. For this reason, they are an excellent choice for double-hung windows when your goal is natural light control and airflow without opening a view into your home for curious onlookers.
Lower the upper sash of your window and bring down your top-down/bottom-up shade to welcome air and sunlight while still blocking views at the bottom of your window. You might leave small openings in the upper and lower sections for air circulation while keeping the majority of your window blocked.
Considering that you will have your window shades in full-cover mode during many hours of the day, it's smart to install an option as appealing as Roman shades. The ability to customize to your exact interior make Roman shades a captivating design element for your Jacksonville home that you and your guests will enjoy.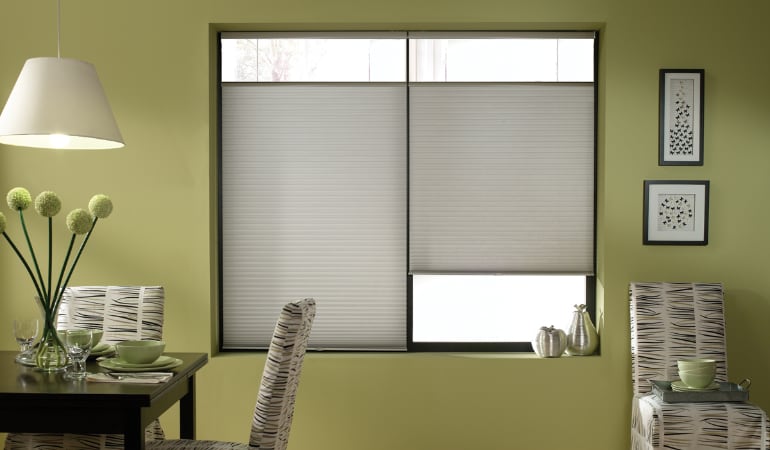 Reduce Energy Costs With Top-down/Bottom-up Honeycomb Shades
Double-hung windows provide a wealth of fresh air on a beautiful day, but the added functionality can lead to more drafts than other types of windows. One fix for this potential problem is top-down/bottom-up cellular shades. Frequently called honeycomb shades, this treatment features fabric cells that trap outside air flowing around your sashes.
This smart process also minimizes the loss of your interior air. By doing so, cellular shades help keep your inside temperatures consistent and your energy costs low.
The energy-conserving functionality makes honeycomb shades appropriate Jacksonville window treatments on double-hung windows for any time of year. Pull them open along with your window sashes for fresh air during mild weather and close them to shield your Jacksonville windows from excessive heat or cold when faced with seasonal weather fluctuations.
Talk To Sunburst Shutters Jacksonville About Window Treatments For Double-hung Windows In Jacksonville
Enjoy all the benefits of your double-hung windows with premium shade or shutters from the leaders at Sunburst Shutters Jacksonville. Our consultants will provide the information you need on our wide selection of options and select the most suitable solution for your Jacksonville home. Call us at 904-289-1663 or submit the form on this page to schedule a free in-home consultation.