The Top Nursery Window Treatment Ideas In Jacksonville
If you're expecting a child in Jacksonville, you hope to get every aspect of your little one's nursery just right -- and that includes the window treatments. But before you pick out your window treatment, keep in mind that safety and functionality are important. Newborns may yank down drapes or get entangled in corded blinds. These treatments don't stop light and drafting for optimal sleeping conditions either. As an alternative, use safe, efficient plantation shutters or cellular shades as window treatments for your nursery in Jacksonville.
Louvered Shutters Will Keep Your Nursery Safe, Cozy, And Stylish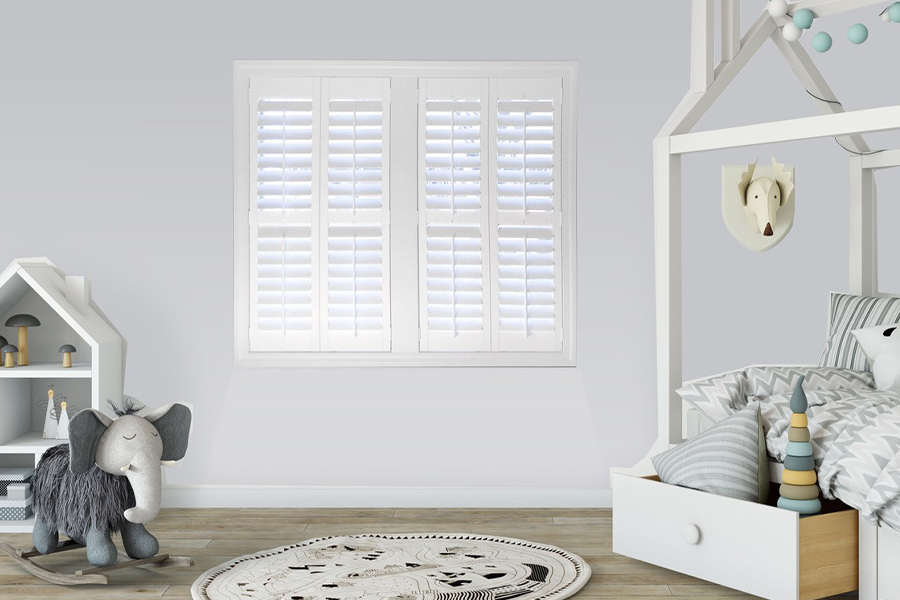 Louvered shutters may not be first on your list for nursery window treatment ideas in Jacksonville, but they really are the best choice! These classic window treatments look stunning in any area. Their louvered panels create an appealing contrast to the fluffier features that come with a nursery. You can utilize
white faux wood Polywood® shutters
in nurseries with vibrant or lighter-toned color choices. Wood-stained shutters might be a better option in the event your nursery consists of more natural pieces or you want to match existing wood trim. And if you modify the decor as your child gets older, your shutters will still be appealing with the area's altered feel.
Plantation shutters utilize a particular composition that makes them ideal for kids' bedrooms. In lieu of hanging curtains or pull cords for a loved one to grasp on or become entangled with, plantation shutters feature sturdy panels with adjustable louvers incorporated into a frame that encompasses the window. They also wipe off with ease when they get those unavoidable marks from tiny fingers.
Shutter louvers and panels offer a few different ways for directing exterior light and privacy in your child's space as well. Pull back the panels for a sun-splashed spot to play or secure them and rotate the slats up to allow some sunlight and angle it to the spot where your child is playing. Then shut the panels and louvers to eliminate virtually all light for whenever it's sleepy time.
Shut plantation shutters keep out cool breezes too. Air can't flow through solid wood and faux wood as it does through fabric window treatments. And our 5-star Ovation® and Polywood shutters use first-rate craftsmanship to diminish gaps where air could slide through. Polywood shutters also feature the best in weather protection that causes them to be the most energy-smart nursery window treatments in Jacksonville and makes sure your nursery stays at a consistent temperature for a soothing sleep.
Cellular Shades Bring Efficiency and Color To Nursery Windows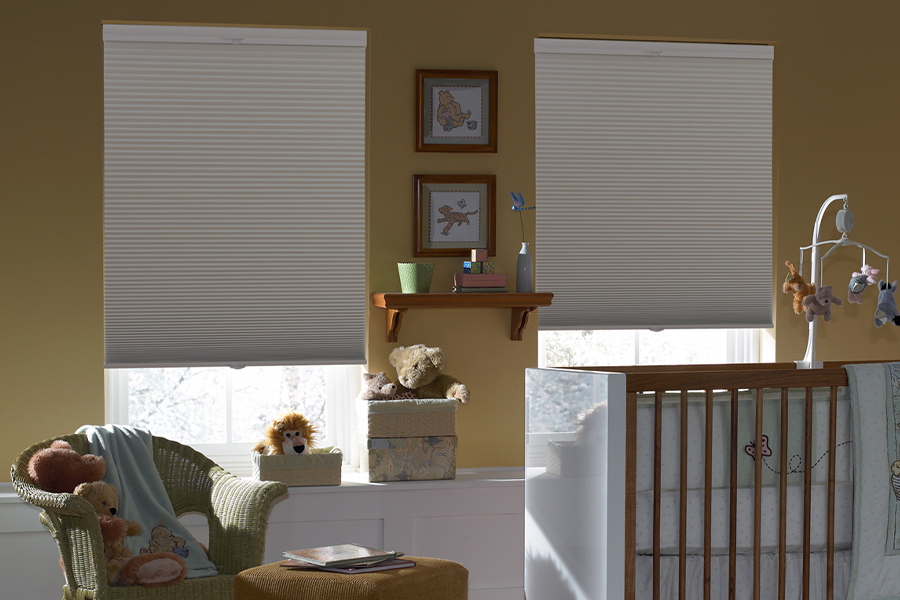 If you would like a softer option for your nursery window treatments,
consider cellular shades.
These window shades come in different patterns, materials, and colors for you to pick from. You'll even come across styles such as top-down/bottom-up shades that provide additional flexibility with sunshine and privacy or cord-free shades that your little one isn't able to become caught up in.
The top asset of cellular shades is their superior efficiency. Their composition creates compact honeycomb-like cells that confine air going through your windows before it enters the nursery. They assist in keeping the area at a consistent temperature and energy expenses down.
Looking For More Nursery Window Treatment Ideas In Jacksonville? Talk To Sunburst
Whether you are looking for nursery window treatment ideas in Jacksonville or window treatments for a separate part of your interior, Sunburst Shutters Jacksonville is here to help. We customize various window coverings that make your home more stylish and comfortable. Contact us at 904-289-1663 or fill out the form on this page to schedule a free in-home demonstration and find incredible window treatments in Jacksonville.