8 Ways to Use Reclaimed Wood in Your Jacksonville Home
Jacksonville people really go for reclaimed wood and the décor statement it makes. It's a desirable way of upcycling weathered wood and showcasing your one-of-a-kind style. Reclaimed wood products are sure to please whether on a wall, your cabinets, or – yes! – your windows. In need of a bit of reclaimed wood inspiration? We have 8 incredible ideas for you – every one of them applied to wonderful effect in Jacksonville homes.
1.Outfit Your Windows with Reclaimed Wood
Finally: that window treatment of reclaimed wood you've long desired is now readily available to you. Sunburst Shutters now offers a plantation shutter created from the finest reclaimed wood. As a matter of fact, Sunburst is the lone company offering you reclaimed wood shutters in the Jacksonville area. We found the reclaimed wood you love and used it to engineer a louvered shutter that's as functional as it is beautiful.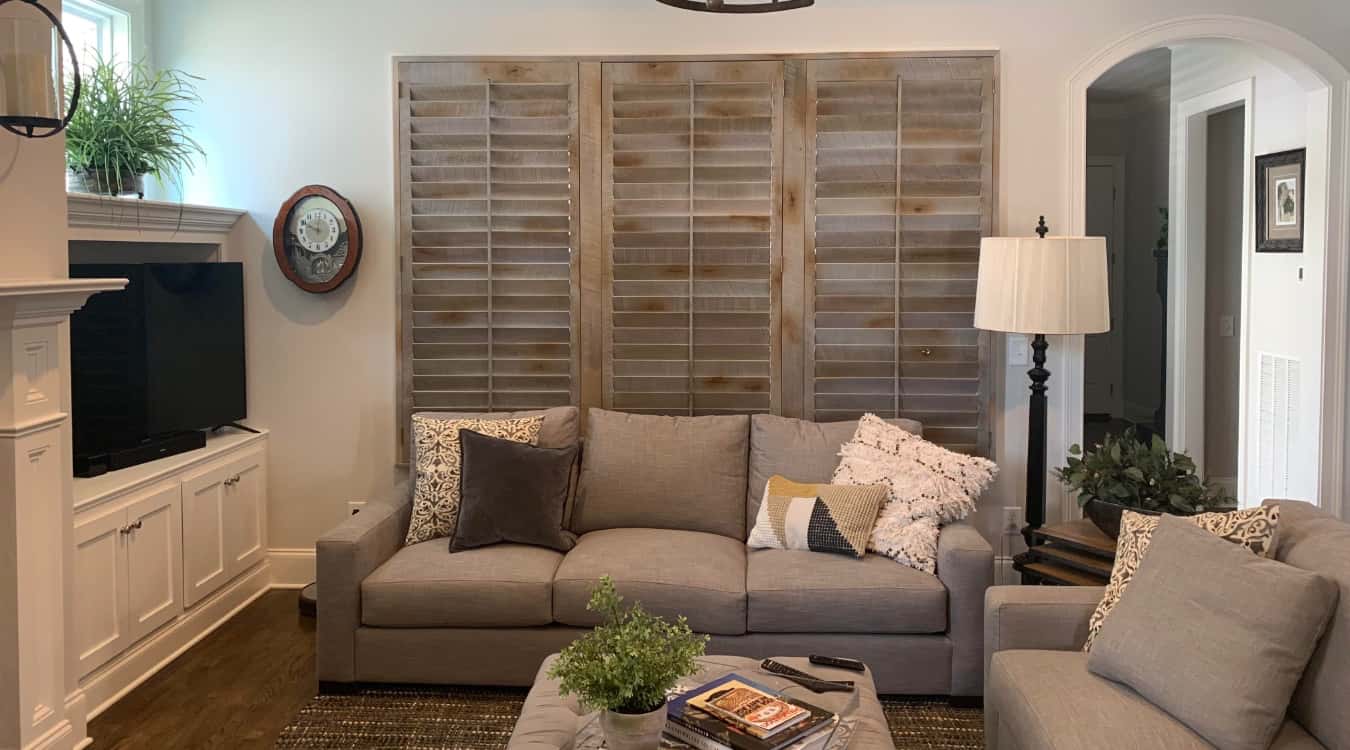 Reclaimed wood can provide a truly exceptional window treatment. You know you're ahead of the game, certainly, when your reclaimed wood shutters are themselves masterpieces. And Sunburst makes sure they are. You'll see that their smooth, simple operation is as gratifying as their look. Tilt the louvers open to allow more light. And tilt them closed to accentuate the weathered look of reclaimed wood on your window. Learn more about reclaimed wood for windows in Jacksonville
2. Reclaimed Wood and Walls
If it's excitement you want in your home, reclaimed wood brings it inside like nothing else. Reclaimed wood paneling adds subtle drama to a wall and imparts a comforting atmosphere to the room. Whether you have a bookcase, fireplace, artwork, or TV to dramatize, a reclaimed wood wall will look incredible behind it and provide the very effect you you desire.
3. Used Reclaimed Wood for Floors
Want to redo a floor in your house? Wood flooring of any kind can add warmth and coziness to a room, but flooring of reclaimed wood has a singular beauty that says something about the time – usually decades – the wood has spent in its natural outdoor environment. Regardless of whether you like the great outdoors or just like the look of weathered wood, you'll fall head over heels in love with what a reclaimed wood floor can do to upgrade your home.
4. Cabinets of Reclaimed Wood
What better excuse could you find to enhance the look of your kitchen cabinets now that better-quality reclaimed wood is so popular and easily accessible? It's the natural way to dress up your entire kitchen. Each panel of reclaimed wood relates an incredible story – of considerable time hidden away in an old building, for instance, or in the crumbling structure of a barn or fence. And a bit of that story will linger on in your reclaimed wood cabinets, called forth each time you lay eyes on them.
5. Reclaimed Wood as a Table
Tabletops made or consisting of reclaimed wood can impart a contemporary, assuredly transcendent look to your dining room or home office. Unite the reclaimed wood's natural tones and textures with your décor to create a pleasing, well-orchestrated look that comforts you – at the same time it takes your guests' breath away!
6. Your Bookcases Cry Out for Reclaimed Wood
Forget for a moment what else we might find attractive about them, books make excellent decorative pieces. Leather, vinyl, buckram, or paperbound books and those with colorful dust jackets look especially pleasing on a coffee or end table, on a bookshelf, or in a large bookcase. Their agreeable variety is both accentuated and harmonized in bookcases of natural wood, too. And bookcases of reclaimed wood, due to their natural colors, knots, holes, scratches, and other markings, prove to be a particularly eye-filling, one-of-a-kind décor item.
7. Reclaimed Wood as a Frame
The soft-hued, natural look of reclaimed wood is perfect for picture frames. It's just what's needed to show off your favorite artwork and important photos in a uniquely distinctive manner. What's equally worth pointing out is that frames of reclaimed wood can be crafted in a plethora of styles, so they'll harmonize with nearly any décor scheme.
8. Use Reclaimed Wood for Your Headboard
There's little that can reinvent the ambiance of a bedroom like a intelligently designed and constructed headboard. Today, when renovating, people are just as apt to rig a headboard to the wall behind their bed as they are to attach one directly to the bed itself. Either way, a headboard constructed of reclaimed wood planking can be undeniably breathtaking. It's natural tones and effects of weathering lend themselves to a seemingly infinite number of styles, from antique to modern. With reclaimed wood, you can loosen up your design sense to create the headboard you've dreamed about!
Get Reclaimed Wood Inspiration
It's our hope that we've inspired you with these 8 ideas for using reclaimed wood. That said, we have even more ideas for you – ideas that so eloquently accentuate the beauty of the reclaimed wood shutters we alone provide in Jacksonville. All of us here will happily show you samples of our shutters, answer your questions, and provide you with lots of other great design ideas. Call us at 904-289-1663 to set up your free in-home design consultation today!